Notícia
EUROESTATES LIVE AUCTION HAVE RETURNED!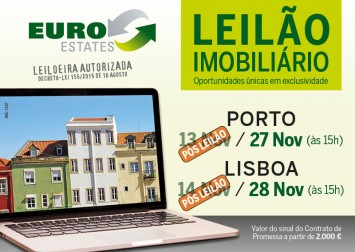 With renewed hope that the pandemic that devastated the country and the world will disappear for good, our daily lives are gradually returning to normality.
Thus, despite all the care and precautions recommended by the DGS, the face-to-face auctions of EuroEstates, which held 4 property auctions in Oporto and Lisbon in November, also finally returned.
The properties spread from north to south of Portugal (including islands) and were owned by Financial Institutions and asset management companies, with the most varied types (land, apartments, houses, shops, warehouses, etc.), having been sold in 2 weekends, around 5 million euros in a total of 50 lots sold.