Properties

sale

Our most recent Real Estate for sale ...
Properties

lease

Our most recent properties for rent ...
Room Auction
Room Auction
Online auctions
Online auction
Live Auctions
Live Auction
Calendar
of Auctions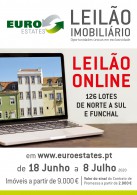 EuroEstates held an internet auction in the last few days that took place between 18 June and 8 July, with properties from financial institutions and institutional clients. The option for the auction on the Internet, naturally had to do with the current context of the pandemic and to avoid rooms with a large influx of customers, as it is usual in EuroEstates face-to-face auctions. More than 3 million Euros of real estate assets were sold, for a total of 26 properties from North to South of Portugal. The selling prices were the most varied, from a store in Lisbon for € 28,000 to a village in Óbidos for € 375,000. Given the success of the initiative and at least as long as the pandemic situation continues, EuroEstates will continue with this bet, having planned a new online auction with properties for second homes or investment, in beach areas to be held during the summer.

In this difficult period that we live in, when the world faces a "war" with an unknown virus, it is important to reduce the risks, staying at home whenever possible, distancing ourselves from people, using specific protections and following the recommendations of the DGS.   At the end of this mandatory period of confinement, we must be positive and proactive, knowing that economic activity must continue, despite the limitations to which we are all subject.   EuroEstates, now with due sanitary precautions, continues to promote the sale and rental of properties, published on its website and betting on online auctions to avoid crowding in the same physical space, but with the same rigor, transparency and professionalism as always.   Stay tuned for the news that we are preparing for you.